Head's up, there could be affiliate links ahead!
Hey there! Today I want to talk about my signature Notion Planner Template. If you're anything like me, you know that planning is key to achieving your goals. But sometimes it can be hard to know where to start, or how to keep track of everything. That's where my Notion Planner Template comes in!
Vision to Action – My OG Notion Template Got An Upgrade
Last year, I launched the first and second version of my ADHD-friendly Notion Planner Template, called Vision to Action. It was intended for a neurodiverse audience who needed help getting clearer on their wants, needs, values, and strengths in order to set goals that align with them. I was blown away by the response and the feedback I received from people who used it.
This year, I'm excited to announce that I've made some major upgrades to the template! I've added a structured weekly planning system to help you take MASSIVE action towards your goals. You can now also track your habits, moods, medications, and more, so that you can visually see your progress!
If you're someone who uses Notion, you know how malleable it can be. You can make it into whatever you want it to be, and it's a great sense of external support. That's why I love using it, and I know you will too.
What's Included in the Notion Planner Template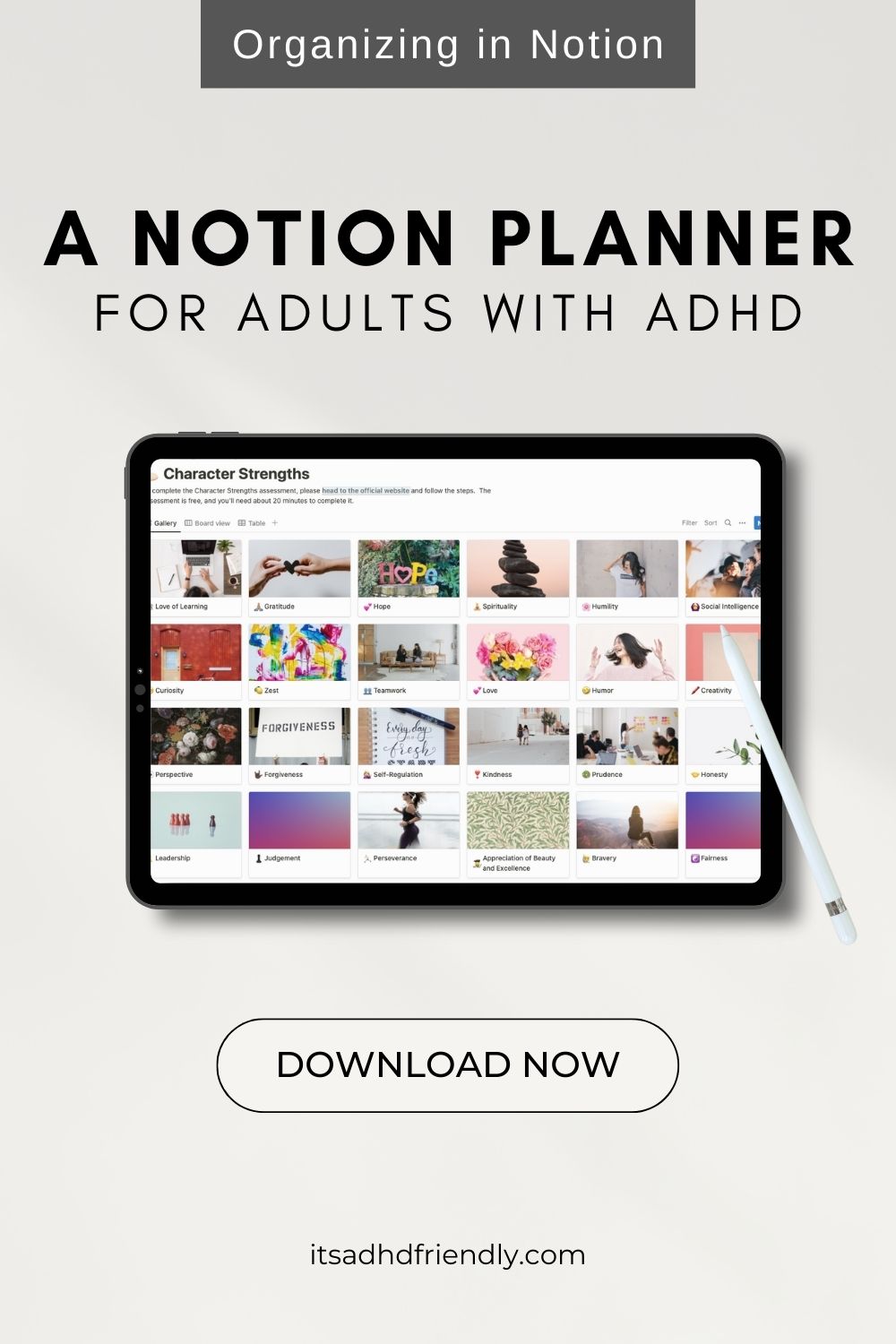 Notion Planner Dashboard
The template starts with a simple dashboard at the top to help you get started. It includes some helpful links to get you going, but the real magic is in the structured weekly planning system.
Assessments
The first step in the planning process is to get to know yourself better. That's why I've included some assessments in the template to help you discover your character strengths, needs, and values.
Notion Goal-Setting and Planner Templates
Once you have a better understanding of yourself, it's time to set some goals! The Notion Planner Template allows you to plan out your goals and create a plan to achieve them. But the real magic is in the weekly planning system, which helps you work your plan and plan your work.
Habit and Mood Tracking
One of the upgrades I've made to the template is the ability to track your habits and moods. You can add up to five habits to track, and you can also track your anxiety level, depression level, and mood level. This allows you to visually see your progress and make adjustments as needed.
Monthly, Weekly, and Daily Non-Negotiables in Notion
The template also includes a section for monthly, weekly, and daily non-negotiables. These are things that need to get done but aren't really tasks that you want to plan for. They're also not habits that you're looking to track.
Manage Your To-Do List in Notion (HIGHLY RECOMMENDED)
You can use the Notion Planner Template to build out your to-do list. You can either do it in a database so that you can track all of your to-dos for today, this week, this month, and the future. Or you can use a simplified task list.
Using Notion As Your Journal
The template also includes an area for journaling. You can use it to do a little reflection at the end of the week, or just take notes.
Get the Notion Planner Template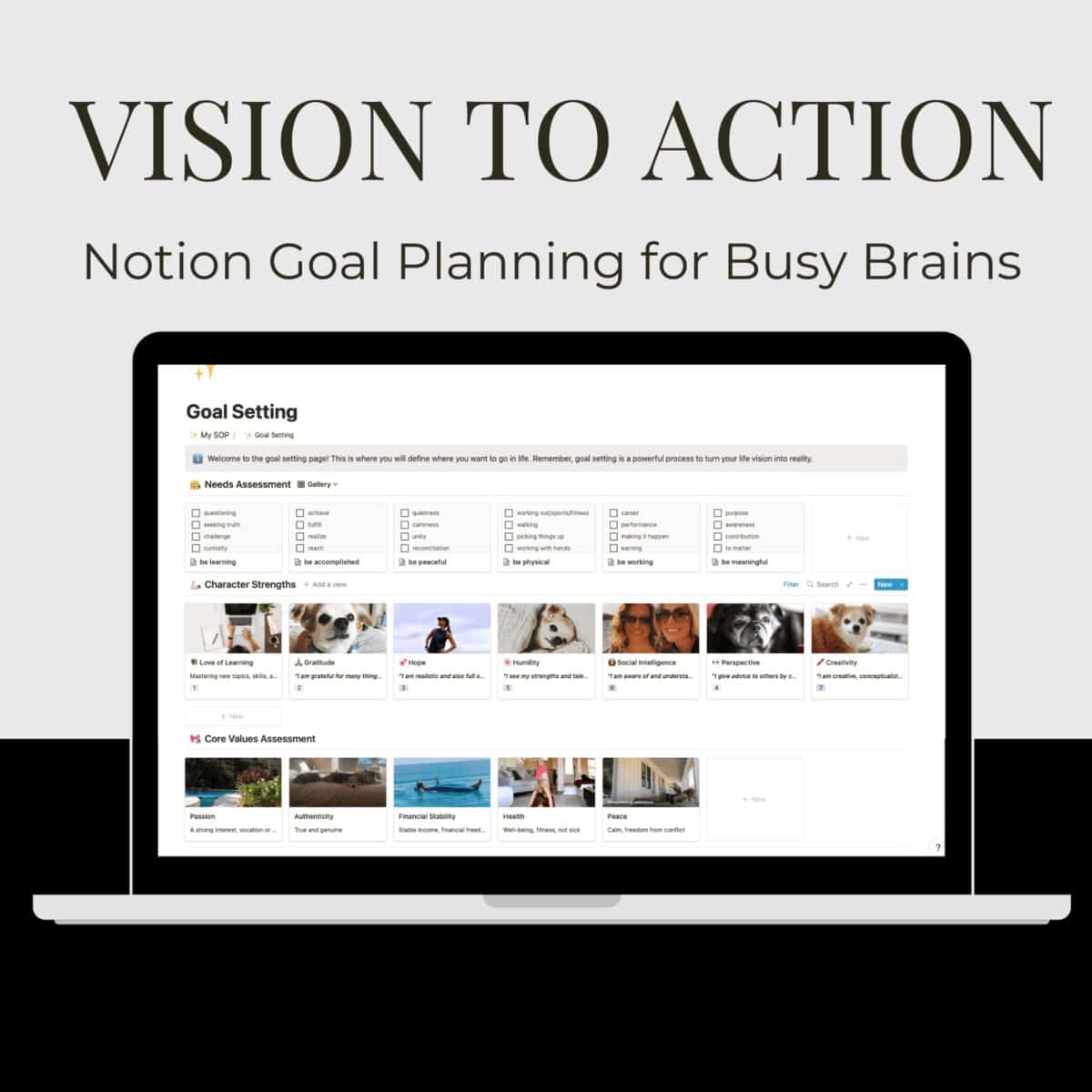 If you're ready to take massive action towards your goals, then my Notion Planner Template is the perfect tool for you. It's designed to help you get clear on your goals and take action.
You can snag the template here.
I hope you found this article helpful! If you have any questions, feel free to drop them in the comments below.
Happy planning!