Head's up, there could be affiliate links ahead!
As someone with ADHD, planning, starting and finishing big projects can be a daunting task. But with the right mindset and strategies, it is possible to overcome these challenges and get whatever it is you want to do done.
In this post, I share my personal experience with tackling big projects as an entrepreneur and the tips that have helped me get past the overwhelm and paralyzing negative thoughts (#ifyouknowyouknow).
See the links I mention in this video below…
Understanding Planning + Doing as Executive Function Skills
ADHD makes it really hard to tackle projects and get them done. Why? Because that requires a ton of executive function skills such as working memory, planning, prioritization, and organization (not to mention emotional regulation and terrible self-talk). The reality for many ADHDers is that we're not great at working things out in our head. But we CAN get past this.
One of the key things to keep in mind is that a lot of these executive function skills are hard for us to manage inside our heads, but if we can externalize them, the process becomes way easier. To that end, here's some helpful ideas to get you started on your own process to getting things done by doing it your way.
Find Ways to Plan Structure for Yourself
Structure is a big deal for ADHDers. We don't always love it, but we kinda need it to be successful. The key is to create structure that works for your brain. This requires a healthy dose of self-awareness and knowing where you get hung up when it comes to getting things done.

Structure can mean different things depending on the context. It might mean having your weekly schedule structured into specific themes. For example, in my business, Monday's are recording days, Wednesday's are coaching days and Fridays are catch up days. That consistent structure helps me get things done every week and keeps my business running well.

Structure can also mean creating deadlines, milestones and specific working hours to get big projects done. When we're starting something from scratch, a blank page can seem wildly overwhelming. That's why I love using Notion's AI feature to help me create outlines for projects (see the video above for an example of how it helps me).
I also created my Organized Business Notion Template to help me structure my business systems and processes. I can't tell you how helpful it's been for keeping me on task and organized!
Planning By Break Down the Project
Breaking down a big project into smaller, manageable tasks is a crucial step in successfully completing it. If you're someone who gets easily overwhelmed, start with the smallest thing to get started.
Focus on just taking the smallest first step to get started and keep your attention there. Once you're in motion, it's a lot easier to stay in motion with tiny steps. That's how you build momentum, and as we learn in physics class, things that are in motion, stay in motion.
Be Clear About Why You're Doing It
Before you start any project, be very clear about why you're doing it, who you're doing it for, and how you feel about doing it.
When it comes to creating a project at work, you're generally doing it for someone else, and there's a good reason for doing it.
But when you're doing something that's entirely on your own, whether it's a project in your business or a personal project in your house, you have to create your own deadlines and accountability.
So be clear on why are you doing it and what the ROI of getting it done. Being clear about these things upfront is crucial because at some point along the line, when the project gets boring or hard, you're going to want to drop it. And if you don't have a compelling reason to finish, it will not get finished.
Know How You Process Things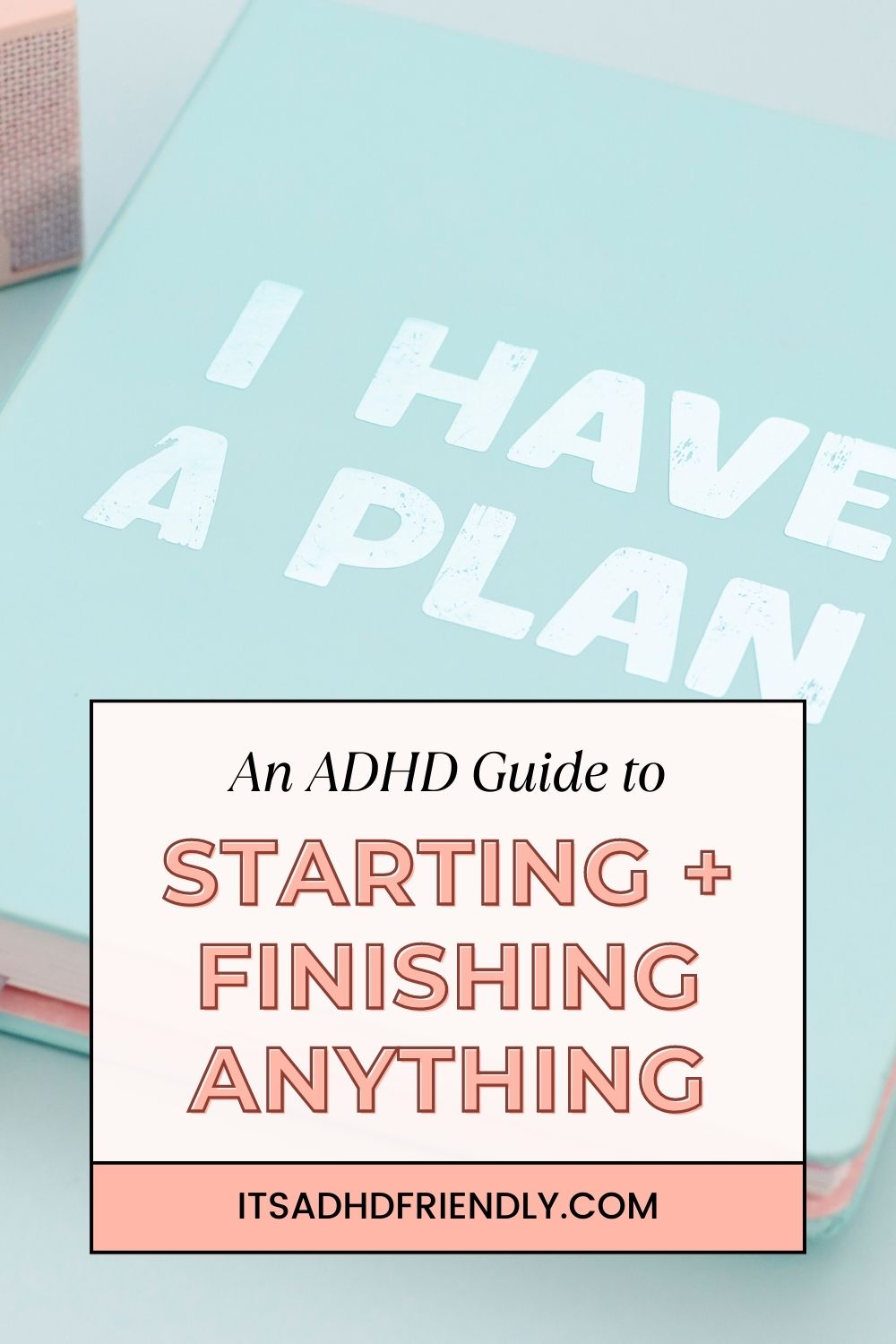 Knowing how you process things is critical when tackling big projects with ADHD. If you're a verbal processor, it's really important that you have that mechanism in place.
Are you someone that needs to talk things out? That means you're a verbal processor. I recommend finding a coach or a friend or just somebody in your life who's not going to have an agenda or opinion about what you're doing just listen to you and ask you questions to help you process. Or maybe you can voice record yourself talking or voice record with a friend just to get your thoughts out of your mouth.
Personally, I am a written and visual processor. So whenever I need to think through things, I need to write them down or create a sketch or drawing that helps me conceptualize and crystalize my thoughts.
Once you know how you best process your thoughts, you can create ways to do that so you aren't stuck in your own head with too many overwhelming thoughts.
Plan Rewards for Completing Milestones
One of the best ways I've found to keep myself going on a project is to set a reward for myself for completing milestones. It can be small things for reaching small goals, or big things for completing an entire project.

Consider what might motivate you to finish your project and if you need an additional incentive, have someone else hold you accountable to your milestones and provide the reward when you produce your scheduled work.
Celebrate Your Completions
As ADHDer's we're quick to assume the worst of ourselves when it comes to starting and completing things (can you relate?). We are like this because we only focus on the things that don't get done. But the reality is that we do finish things. For example, you've almost finished reading this article!

In order to counteract this negativity bias, we need to make a point of celebrating every completion. This seemingly small or inconsequential step is SUPER IMPORTANT because it helps our subconscious reshape our identity as someone who can and does finish what they start. Don't skip this step, please!
Planning + Executing Projects Like a Pro – Quick Takeaways
Find ways to create structure for yourself
Break down the project into smaller, manageable tasks
Be clear about why you're doing it
Know how you process things
Reward and celebrate your progress
Tackling big projects with ADHD can be challenging, but it's not impossible. With the right mindset and strategies, you can overcome the obstacles and succeed. Remember to break down the project into smaller, manageable tasks, be clear about why you're doing it, and create radical structure for yourself. And most importantly, keep your attention on the small steps towards momentum, and eventually, you will get the thing done.