Head's up, there could be affiliate links ahead!
If you have ADHD, you might struggle with executive function skills like setting goals, making decisions, and finding the motivation to follow through on what you started. As someone who has ADHD, I understand how frustrating it can be to feel like you're not making progress towards your goals. But the good news is that with the right strategies and support, you can improve your decision-making skills and find the motivation to achieve your goals.
In this blog post, I'll share some tips and strategies for setting goals and making decisions when you have ADHD. Whether you're trying to grow your business, advance in your career, or improve your personal life, these tips can help you stay on track and make progress towards your goals.
Make Better Decisions and Goals By Knowing Your Needs, Strengths, and Values
When it comes to setting goals and making decisions, it's important to understand your needs, strengths, and values. As someone with ADHD, you might find that your needs, strengths, and values are different from those of neurotypical individuals. For example, you might be more motivated by time, freedom, and flexibility than by money.
To better understand your needs, strengths, and values, I recommend taking assessments like those in my ADHD Vision to Action Notion template. These assessments can help you identify what's most important to you and what motivates you.
If you're not a Notion user and you just want the assessments, jump on my mailing list and I'll send them over to you.

Courses & Templates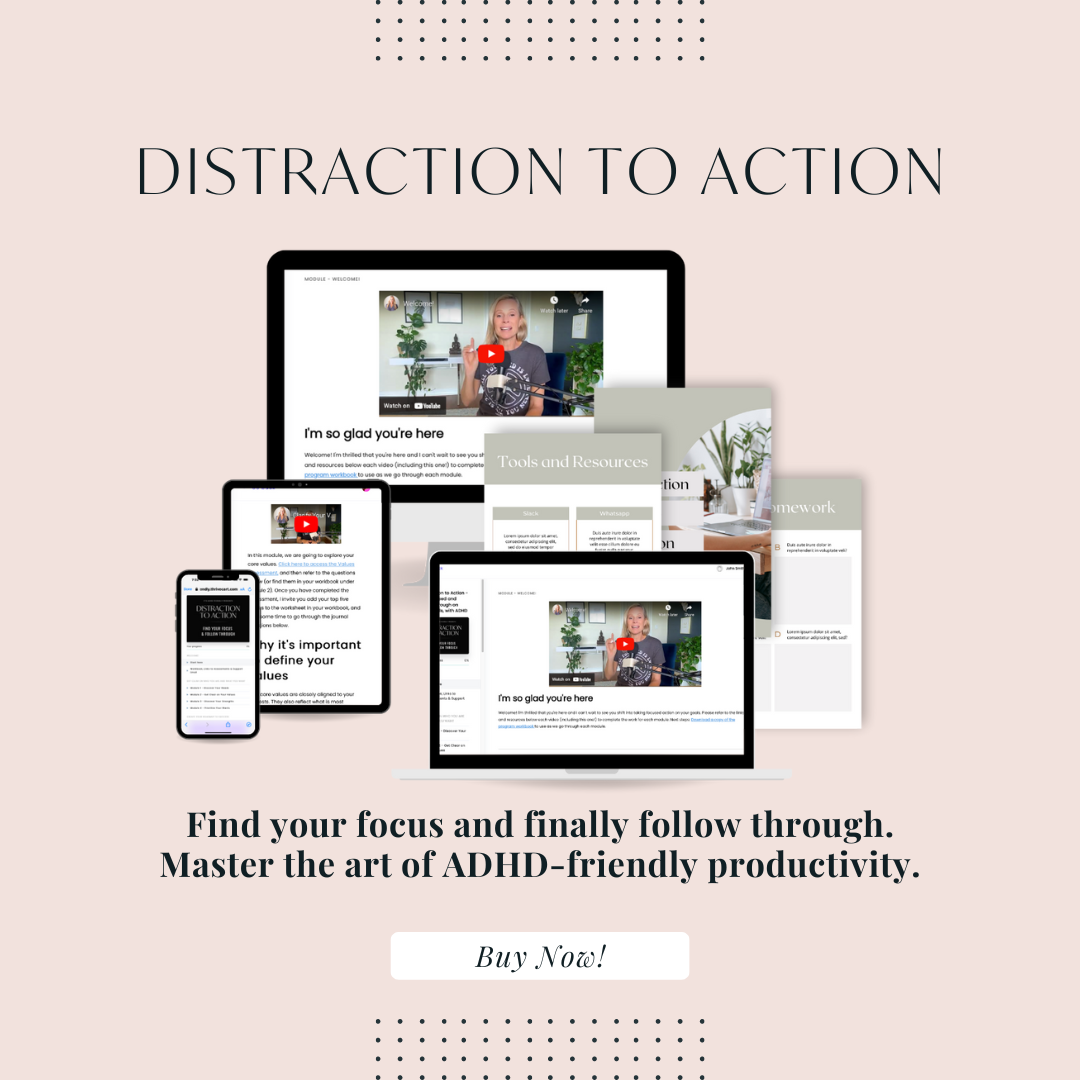 Distraction to Action
A science-based productivity program that helps ADHD'ers define what's most important and follow through on it.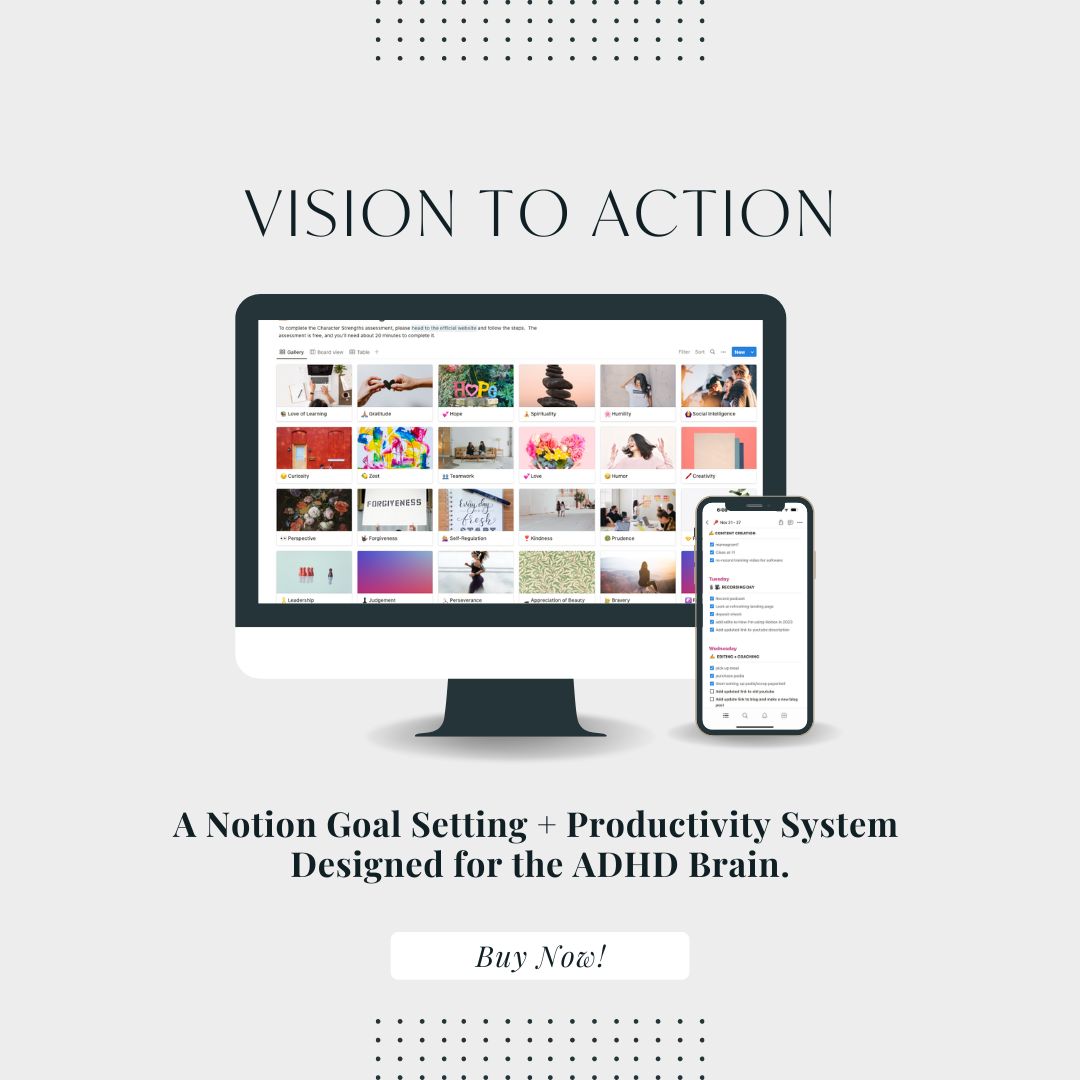 Vision to Action
A template to help you clarify and align your strengths, values + personal needs with your intentions.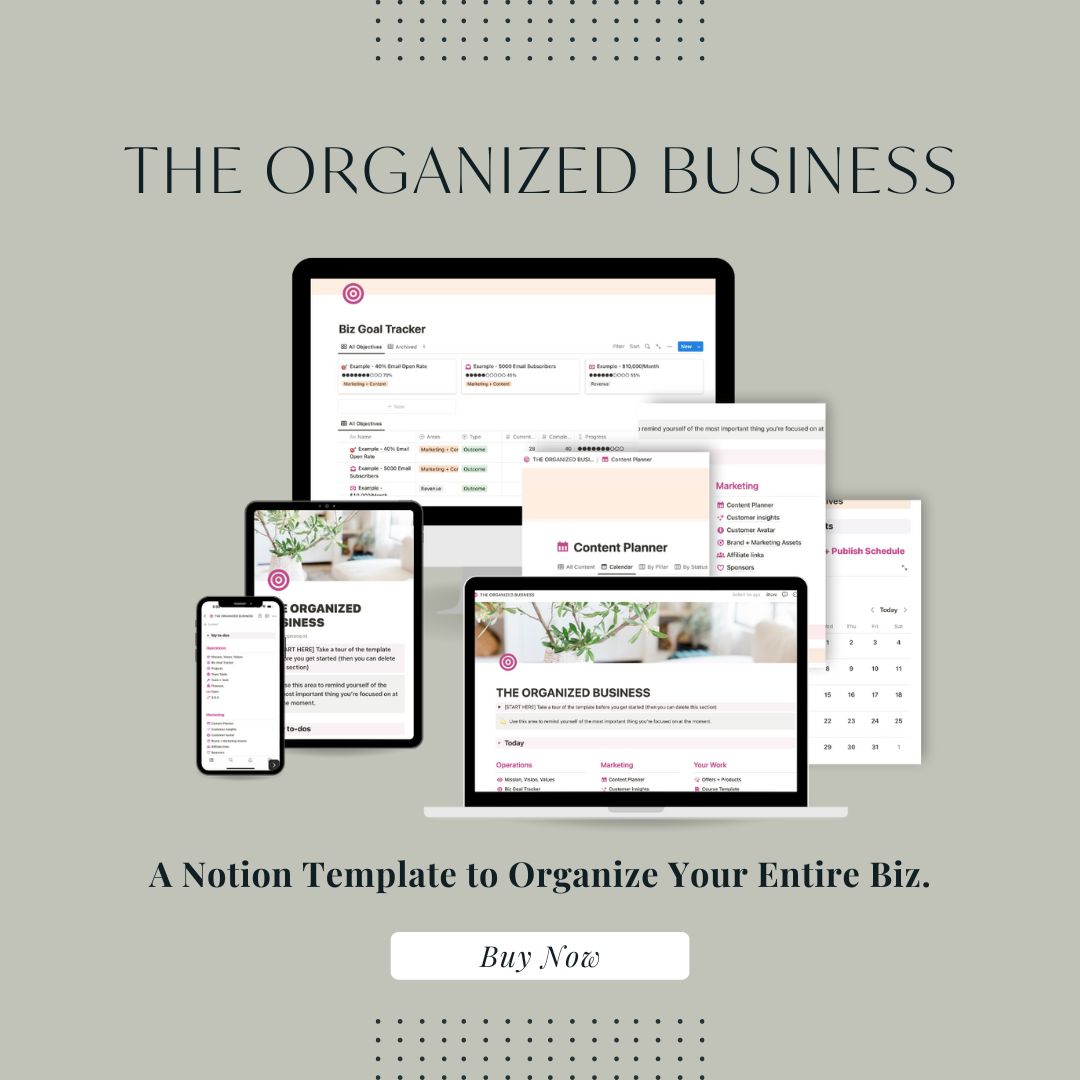 The Organized Business
A robust template for getting your business organized with trackers, workflows and project planning.
Using the Be-Do-Have Model to Make Better Decisions
One of the biggest challenges for individuals with ADHD is making decisions and setting the right goals. To make good decisions, we have to build self trust and get clear on what we want. To set goals that are the right fit for you, they need to align to your strengths, values and needs, but they also need to be intrinsically interesting to you. Without that – you'll struggle to find the motivation to follow through.
To help with this process, I recommend using different tools to ensure your decisions and goals are in alignment with your interest-driven brain and highest good.
We've all heard of doing pro and con lists, and I love that approach, but I also like to use the Be-Do-Have model to go deeper. This model involves identifying what you want to have, what you want to do, and who you want to be when your goal is achieved. By focusing on what you want to have, do, and be, you can create goals that have a clear outcome and you'll feel more connected to the "why" behind the goal.
Making Decisions Using Your Body
As someone with ADHD, you might struggle with making decisions. To make decisions that are right for you, it's important to tap into your body's wisdom. You can do this by asking yourself how your body feels about a decision. However, first you need to know how to read the language of your body, which is really simple.

To do this, think of something you would absolutely HATE to do. The worst thing in the world to you. When you think about doing or having that thing or experience, what's the feeling in your body? Tune into the strongest feeling in your body as you think about that idea.

Now do the same with something you absolutely LOVE to do or have (keep your mind out of the gutter for this one or else you might get a distracting result). Think of the people you love spending time with, or something you really want to achieve. Where do you feel that in your body?
For me, good feelings show up as a lightness or tingling in my heart area. Bad feelings show up as a heaviness in my stomach (the way dread feels).
This may seem like an overly simplistic method, but don't underestimate it's power. Remember – your central nervous system and gut are part of your body's thinking mechanism. To only make decisions from your brain (which is wired only to keep you safe) gives you a limited perspective on making decisions and setting goals. Always check in with your body. It knows your truth.
ADHD Brains Do Best When They Externalize the Decision Making Process
As ADHDers, the worst thing we can do (but seem do most often) is to make decisions impulsively. If this is something you struggle with, as I do, then externalizing the process will help.

This can mean having a designated person you speak to before making decisions (someone who will ask you questions to help guide your thinking) or perhaps using a journal or a Notion Template to help guide the process. Have a standard set of prompts to ask yourself so that you work through every aspect of the decision. Also, it's good to do this at a time when you're calm. When we're stressed, excited or distracted, our emotional disregulation can lead to hasty decisions that we might later regret.
Final Thoughts on ADHD Decision Making and Goal Setting
Understand your needs, strengths, and values to make decisions and set goals that are the right fit for you
Use the B-Do-Have model to create goals that align with your needs, strengths, and values
Tap into your body's wisdom when making decisions
Create a decision-making matrix to externalize the decision-making process and provide structure for your thinking
Remember, making progress towards your goals is a journey, not a destination. By using these tips and strategies, you can make progress towards your goals and build the executive function skills you need to succeed.