Head's up, there could be affiliate links ahead!
Ya'll, if you have ADHD and you struggle with setting goals and following through, I want to share a template I've developed to help you move through your vision all the way to action so you can finally follow through on your juiciest goals.
ADHD + Goal Setting
These two things right here – goals and ADHD, are not friends. ADHDers have the BEST intentions to set goals and do ALL THE THINGS, but do we do them? Well, I'll let you answer that for yourself 😃.
I know what my answer to that question is….
A Template Designed for the ADHD Brain
Now, I have talked a LOT about understanding strengths, values, needs and desires before setting goals, but I recognize that this feels like a lot of work just to create a simple goal.
So I created this template to not only simplify the process and create some guardrails for designing your ideal life, but I went one step further and embedded it into my favorite task management system (Notion) so that the process of moving from vision through to execution was structured, visual and FUN!!
Now, this template is going to be ideal for someone who is already a fan of Notion. If you've never even heard of Notion, then I encourage you to explore it first. Download the software, (it's free), watch a few youtube videos on it and see if it's a good fit for you.
ADHD + Notion
The great thing about Notion is that it's a task management AND content management system all wrapped up into one beautifully designed program. If Trello, Asana and Evernote had a love child – Notion would be it. This is great for ADHD'ers who have a million to-do lists and a document system that's in 14 different places (I speak from experience here).
It's also very flexible, so you can set things up to suit your personal preferences and add pretty pictures and color code stuff so it's fun to look at!
The downside of Notion (if there is one), is that there's a bit of a learning curve. But once you get it, it's easy to become obsessed with it (another ADHD warning!). It's so incredibly flexible and it can literally do whatever you want it to.
Notion Makes Goal Setting FUN
I love creating goals in Notion for all the reason I mentioned above. It's visually stimulating, highly flexible and you can keep your goals front and center so you never forget them. The system I created makes goal setting systematic by guiding you through a breakdown process from big goals to monthly goals, then daily tasks.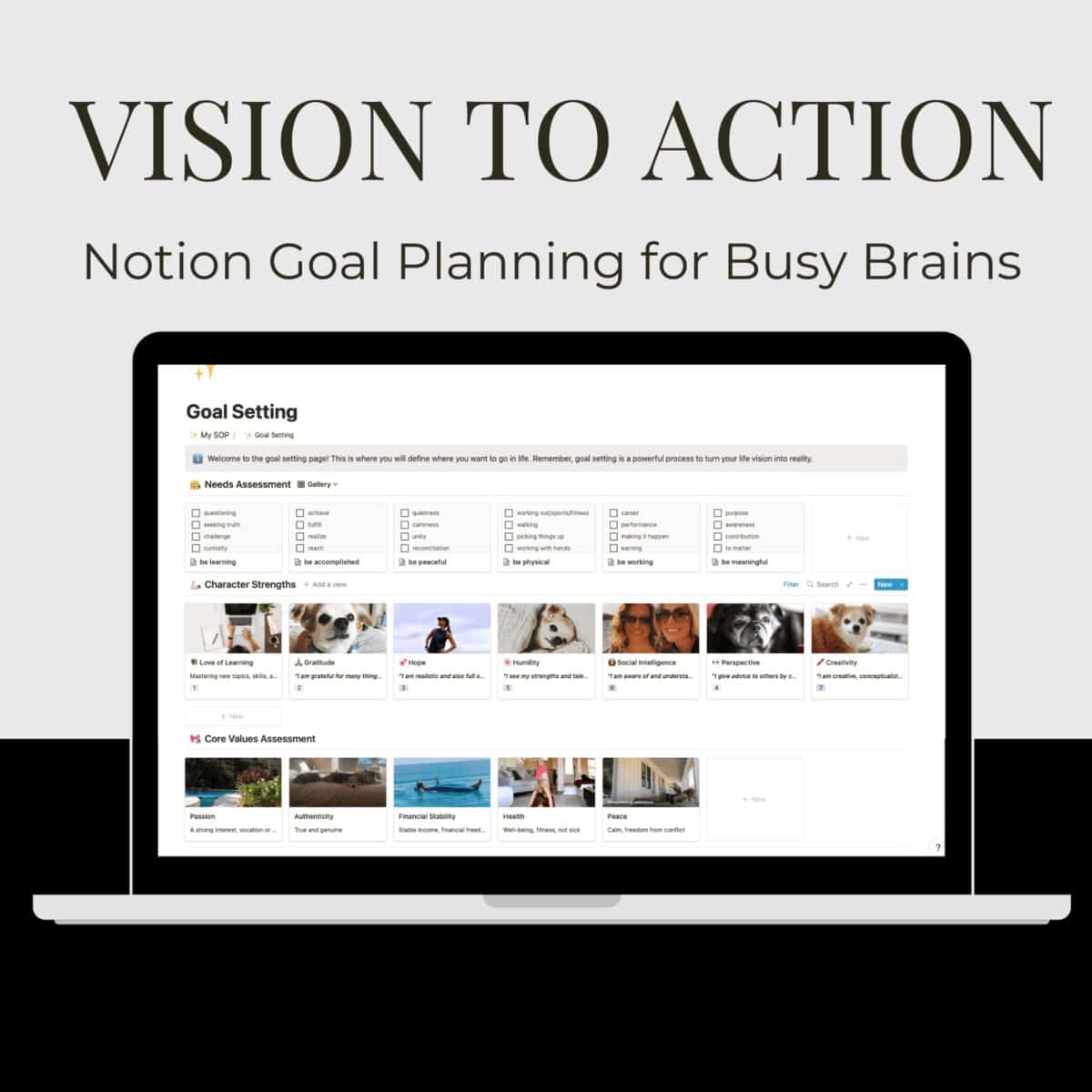 The other benefit of this template is that you can see your goals lined up visually against your core needs, values and strengths so they become easier to process and understand. It makes deciding what to focus on much more personalized and clear.
I hope you enjoyed the video above that walks you through the template. If you have any questions about the template, feel free to drop a question below. I'm happy to answer them, although I'm not a Notion expert, so I wouldn't be able to answer your questions on the software.
Have fun with it!