Head's up, there could be affiliate links ahead!
Last year, we made the move from California to Texas for reasons I'll explain in this blog post. Overall it's been a smart move financially, however I've also had moments of regret, mostly because moving can be socially isolating. Then the world changed in early 2020 and I'm 4000% convinced this was the right decision.
Why we moved from California to Texas
I've lived in California ever since moving from Toronto for a job in 2006. We (my husband and I) have lived in a few different places in the state (LA, San Diego and SF Area), but until last year, we were living in the heart of Silicon Valley, paying up the wahzoo for our overpriced home.
We decided to move to Texas for three reasons
More space (we've doubled the size of our home and lot) and we back onto a greenbelt
Lower cost of living – even though we doubled our home size, we bought this house for 50% of what we sold our house for in Silicon Valley. We also don't pay state tax and things are generally cheaper here.
A new adventure.
Why we chose Austin, Texas
We're liberal and Austin is a progressive bubble in an otherwise very conservative state. We wanted to live amongst people who share our political values.
Austin has an amazing food scene and we love food.
It's weird and quirky in the best possible way.
It's also really pretty and green! I feel like I'm living back in Toronto, only there's no snow.
Twice the house at half the price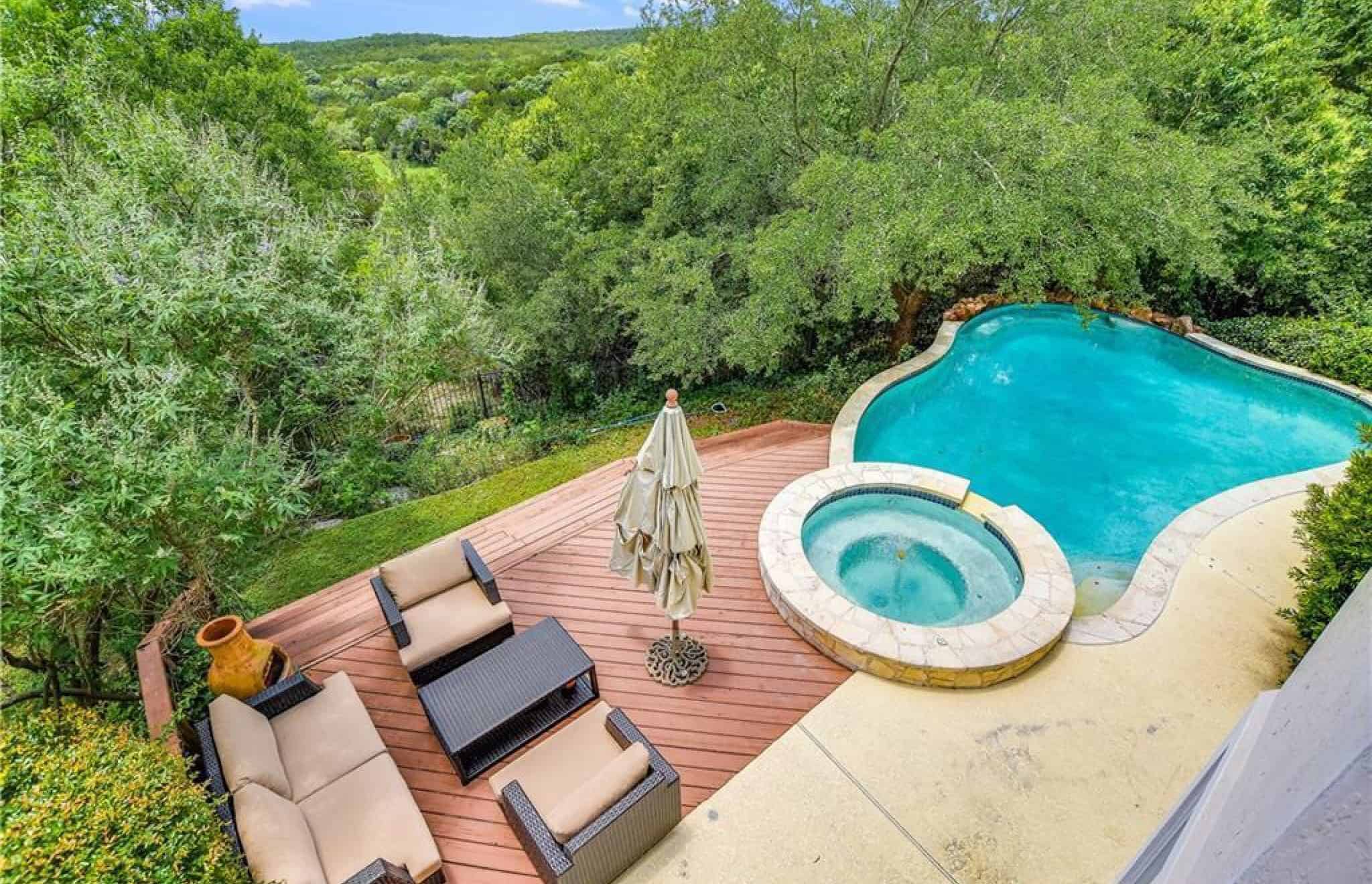 Upgrading our living space was a big factor in our decision to move and it's been a gift during these weird times where we're all sequestered at home. Our 2bed/2bath, 2000 square foot townhouse in the Bay Area sold in less than a week for $100K over asking. This is not unusual for that market.
In Austin, we have 3500 square feet on a ⅓ acre with 4 bedrooms, 4 bathrooms, a pool, a gym and a beautiful big kitchen. While I had some reservations going this big (we don't need this much space) the house was love at first sight, it's in a great neighborhood, the views are insane and this is both a live and work space for both of us.
It was also 50% of the cost of our Bay Area home, so it felt like a fire sale (even though it wasn't).
Minimalism and Big Texas Homes
Everything is big in Texas, including the homes. To be honest, buying this home went against my minimalist sensibilities (but I got over it!). Furnishing a large home is challenging because I know we're not here for the long term (5 years, max) and then what will we do with all this big furniture?
I've been buying pieces strategically – knowing that we'll end up selling some stuff and only investing in the pieces we'll want to keep when we eventually move.
The Pros of Moving from California to Texas
I feel like I've covered a lot of these already. I must say, during this whole "Corona" experience, it's been really nice to float around in the pool and go for long walks around our greenbelt community. Having extra cash from our Bay Area home sale is also very reassuring during this period of economic uncertainty.
Other benefits are:
Cheaper food – at grocery stores and in restaurants. Where we used to spend $100 for date night, we now average $65 for the same order.
Gas for my car (the hubby has an electric car) is cheaper
More space and less traffic! Austinites complain about bad traffic, but it's nothing as compared to California. There is just far more open space here so we're not living on top of each other.
Nice people – I must say, Texans are friendly. But so are Californiians, so maybe this is a wash (a very important one though!)
Mild winters – It only snowed here once last winter. A light dusting that was gone by lunch, never to be seen again. It's a little colder here in the winter than Northern California, but not by much.
No state income tax – I was lucky enough to bring my "day job" with me so I'm still getting paid a Bay Area salary in an area where the local salaries are much less. Because there's no state income taxes here, I also get to keep more of every paycheck. Woo hoo!
The Cons of Moving from California to Texas
Social Isolation – Moving away from friends is the hardest sacrifice. Working from home means I don't get out and meet people unless I'm really intentional about it. Since we landed here, I haven't had much of a chance to socialize (and now literally no one is socializing), so that's been hard.
Politics – If you're progressive, you might find living in a red state unpalatable. Personally, I don't pay much attention to it and I literally never watch the news, so I'm oblivious to most activity at the state level.
Property Taxes Are High – We were warned about that but it wasn't a show stopper. In fact, we are paying the same amount in property tax as we were in California, but for a house that cost 50% less.
Summers are outrageously hot – It's only May here, but we've been using our pool regularly since February. It's still pretty decent right now – about mid 80's, but by July, it will be in the mid-90s and then up over 100 until mid October. That's really hard to live with, especially when you're someone who loves being outdoors.
Moving to Texas Made Us Financially Independent
This is really the biggest win we've had moving here and ironically, it didn't occur to me that we made it to financial independence until last week! We have not only dramatically improved our net worth (because we did well on the sale of our Bay Area home), it also reduced our cost of living so much that we're now financially independent. That statement comes with a huge caveat however, because if we move back to California, that will change.
Financially Independent But Not Retired (Or, FIRE)
My husband and I both still work day jobs and have side businesses. I don't see that changing for the next little while (because we're happy with the status quo), but if the economy tanks and either of us lose our jobs, we'll be fine. Not having to stress about this is the greatest gift we could have ever given ourselves and the number one reason why I started this blog.
Should you move from California to Texas?
If the right work opportunity is available, I think it's a great bet. The quality of life is better, the restaurants are insanely good and the people are open-minded and progressive. You'll enjoy more space, less taxes and plenty of bbq (vegans will have great options as well).
If you do come, be sure to get a spot with access to a pool, or budget for a long summer escape in August because the heat might just drive you crazy.