Head's up, there could be affiliate links ahead!
2020 needs no introduction. It was the year of the burning dumpster fire that scorched all four corners of the earth. It was nuts.
But amidst the craziness, there were so many little blessings. Rather than focusing on the pain this year caused from a global health crisis to civil unrest and a bizarre election here in the US, I choose to ponder all the goodness that also happened.
On the Home Front
As many of you know, my husband and I moved to Austin, Tx from the SF Bay Area late last year. While I still think that was a great decision for many reasons (ie, quarentining with a pool), it was also very isolating. We don't have any friends in Austin, and once the pandemic hit, we weren't out making any new ones, either.
While I don't love Facetime and Zoom discussions, I'm so grateful that this technology exists. Not only do I have regular Zoom chats with my friends from all over the US, I also had 2 virtual surprise birthday parties when I turned 50 in May. It was the weirdest, most wonderful birthday ever.
Expanding our Family
This year we started fostering with the Austin Pug Rescue. So far we've taken in 4 dogs. Two were senior pugs that we had just for a night and the others were Chihuahuas. The first one, we named Tango (he's still available for adoption if you're local and looking for a love-bug). Our last one was a #fosterfail.
Little Jack is a 15 year-old PomChi that was surrendered with his sister (who is a pug). The rescue couldn't say no to his little face, so they took him in and I agreed to foster him.
He was a mess when we got him because his teeth were so rotted. But the Pug rescue paid for his dental work and today this spunky monkey runs around our house stealing snacks and cuddles.
I'm so grateful we adopted him and I'd encourage anyone to adopt a senior pup. They're a delight to hang out with, they sleep through the night and they know exactly where to do their business.
Money & FIRE
From a financial standpoint, 2020 was very good to me. Despite pulling a bunch of money out of the market in March (yep, I did that) only to buy back in at higher price, we still saw a sharp increase in our wealth.
Our house also went up 11% in value according to Zillow, because Austin is a hot destination right now and there's not a ton of inventory. In fact, I'd say we're up more than that based on the upgrades we made this year to the kitchen and bathrooms.
I also had a great year with my consulting practice and my wellness blog brought in a profit for the first time! That's what I am most proud of since I've been blogging for about 12 years, for free.
My desire for FIRE Sizzled out
Oooof, this is a hard thing to talk about, but this year showed me that I don't have a lot of things I'd rather be doing than working. I want to say that's a bad thing, but I'm not sure.
When I am writing, I feel 100% my most creative self. But the fact that I'd rather be pounding away at my laptop than traveling, seeing friends and family or even floating about in the pool is a little disconcerting.
This year has shown me that I need to find value in doing non-productive activities… ones that don't promise more money, better health or career advancement.
In fact, listening to the book "Do Nothing" by Candice Headlee has made me painfully aware that I've fallen deep into the "you're only as good as your paycheck" mentality and that's not okay.
I'll write more on this in January, once I've fully processed what all this means, but I think a mindset shift toward more living and less earning is in order.
Intentions for 2021
I heard one of my favorite people on Instagram say this and it landed so profoundly for me, I had make a meme out of it…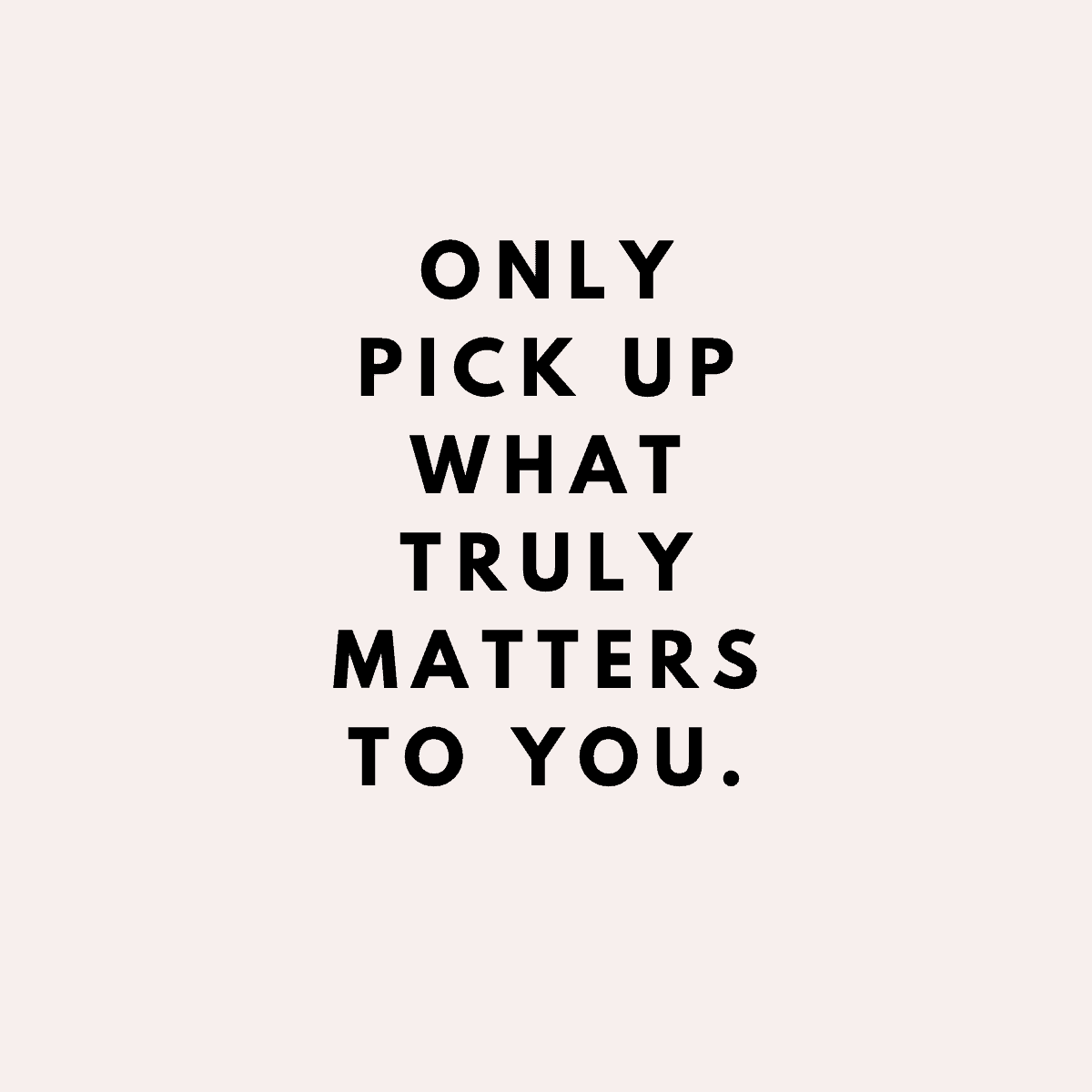 This year, I picked up a lot. Most felt important at the time, but in retrospect, very little of it actually was.
For 2021, I don't have any goals. Ironically, aside from seeing my business continue to grow, I have everything I've ever dreamed of – family, friends, health, wealth and a home I love being in. I want for nothing, and yet, I am still not at peace.
I believe that a profound sense of peace is possible for all of us, but it won't be found in a pair of Lululemons. Peace happens when we are true to ourselves 100% of the time, and when our choices and actions match our values.
So that is my only hope for the year ahead. To live in complete alignment with my truth, so that I may be at peace.
I wish that for all of us.
Namaste and have a happy, healthy, prosperous year ahead.