Head's up, there could be affiliate links ahead!
Quick head's up 🤗 if you decide you want to join WAIM, you can wait for one of their enrollment openings (happens twice per year), or you can use my link which will give you anytime access.
Ya'll I have to write a quick review about Wandering Aimfully business coaching because if you have ADHD, or you're just a little ADD-ish, this MIGHT be the perfect place for you.
Now, you might be wondering why I'm talking about another business coaching program when I too, am a business coach (for ADHDer's). I firmly believe that we all need community & support, no matter how introverted and DIY-like we tend to be (that's me 🙋‍♀️).
I've actually been experimenting with a lot of communities lately, and this is the first one that I've found that suits me.
Why? Because it's the most ADHD-friendly online business community I've come across, and that's not even what they intended it to be.
Wandering Aimfully is More Than a Brand, it's a Culture
One of the first things that struck me about Carol and Jason Zook, the founders of Wandering Aimfully (or WAIM for short) is that they lead with their values, which exudes transparency, authenticity and inclusivity with a dash of weirdness thrown in.
All of this, as well as their culture of joy and being "unboring" is music to an ADHDer's ears, because it's attention captivating. Everything is thoughtful, stylistic and beautifully branded, so it's FUN to interact with the brand and the people.
So it's no wonder why there are so many neurodivergents in the community. This level of inclusivity and intentionality is so hard to find, even in communities that are specifically designed for ADHDers.
Wandering Aimfully Brings Next-Level Value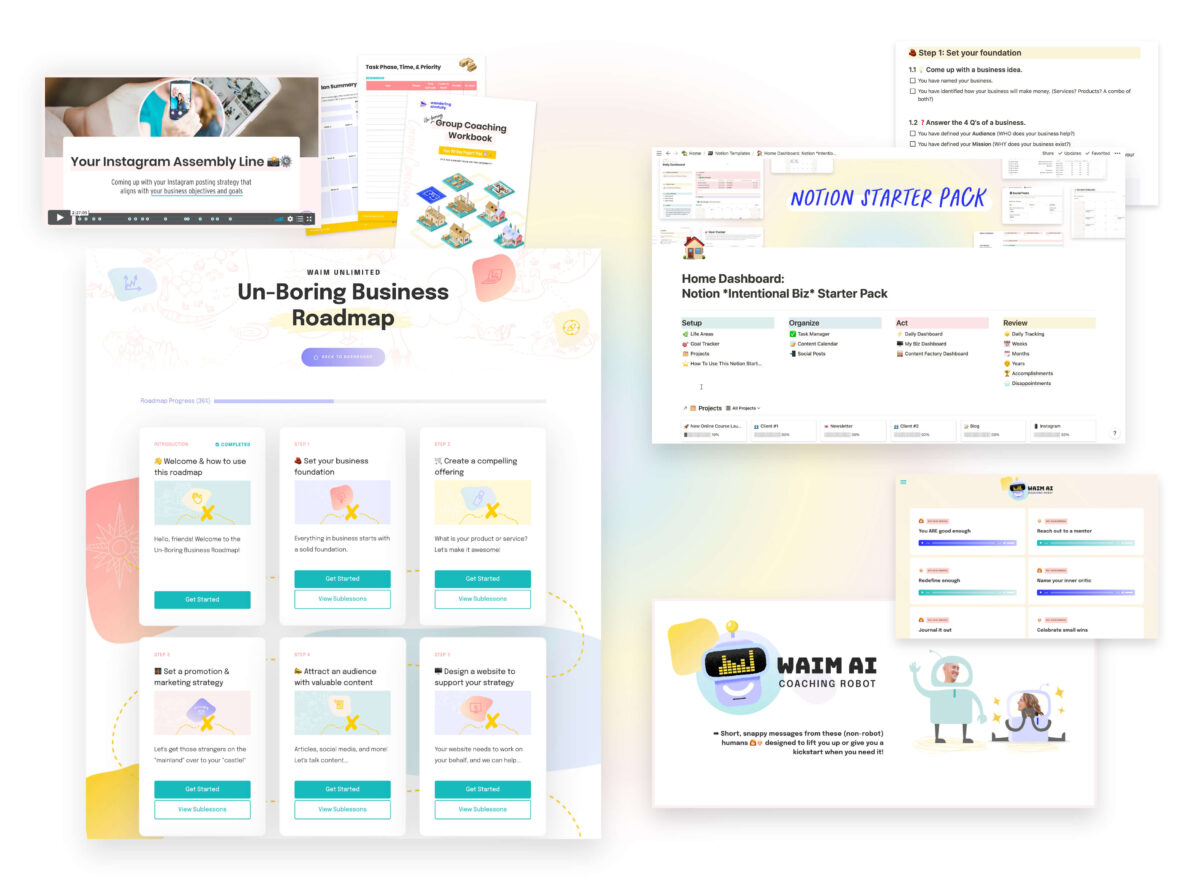 I've joined a LOT of online business communities in the past, from B-School, to Elite Blog Academy and a bunch in-between, and in full transparency, I'm affiliates for many of them. But nothing comes close from a value comparison standpoint when it comes to WAIM. Here's why..
At the time that I'm writing this post, their community cost is $2000 which can be paid in full, or there's a few payment plans. Once you pay that off, you get access to anything Carol and Jason create going forward.
This includes not only their group coaching program, but also free lifetime access to their online course platform (Teachery) and bunch of other courses that they've made in the past. So right now, I'm paying $100 a month for biz coaching, an engaged community, a bunch of specific courses on everything from email marketing to branding, selling and a free software to host all my courses.
The other standout value of this biz coaching community is that their Notion templates are NEXT LEVEL. I mean, seriously – the business templates they provide for free typically go well beyond what the top template creators offer.
If you're a Notion nerd like me, you're going to lose your mind when you see all these templates. They will give you SO. MUCH. STRUCTURE!!!
So is Wandering Aimfully Worth It?
That would be a 4000% hell yes. It's actually very rare that I promote products in my content because I don't like to inspire unnecessary purchases to my audience, but this one is worth it's weight in gold.
What about Getting Results?
I think this is a really critical piece when it comes to investing in coaching and support. I've only been involved with WAIM for a week, so I can't say that they've improved my revenue (yet), but here's what I have done so far….
Refined my target audience
Tweaked my messaging so it was more clear
Started mapping out the next course I'm doing (which will be hosted on Teachery for free)
Met 3 other business owners, two of whom also have ADHD. That's a lot of progress in less than a week.
Who Wandering Aimfully is NOT for
Jason and Carol are actually very clear about who they are for and not for, and it's clearly stated on their website, but I want to elaborate a little further on a few points.
They are not about competitive hustle culture. I point that out because some folks thrive in that kind of energy, some don't.
They are very committed to building sustainable income and avoiding burnout. They actually have a full program on this in their membership.
They're not for business owners who want to build big businessness. They definitely lean toward solopreneurs who want to build lifestyle businesses. The reason I was drawn to them is that they focus heavily on building asynchronous forms of revenue. If you've been around here for a while, you know that this is my goal for 2023.
It's not for someone who is struggling to afford the basics. I say this because this is an expense that will make business easier, more effective and perhaps grow faster, but it's not a necessity by any means. If you're struggling financially, read books on business, and choose a few creators to follow that you trust. Once your business starts making money, or you're in a better financial spot, then consider paying for coaching.
Curious about Joining Wandering Aimfully?
If you're interested in joining WAIM, you can do so through my link (this is an affiliate link, btw) at any time. Otherwise, you have to wait for one of their new enrollment openings which only happens twice a year.
Jason and Carol only open enrollment twice per year, but they allow their members to bring in others at any time. Anyone who joins through my link will also get free access to my Distraction to Action program as a bonus as well.
Anyhoo, I just wanted to write that not-so short review because I'm super excited about this program and I'm already getting a ton out of it. Given how ADHD-friendly it is, I thought you'd be interested in checking it out as well.
Cheers Caren