Head's up, there could be affiliate links ahead!
Today I'm taking you behind the scenes of my weekly productivity process, and show you how I start my week off strong with the Monday Hour One method in Notion.
What is Monday Hour One?
Monday Hour One is the process of taking the first hour of your week to set yourself up for success. It's about getting clear on the results you want, brain dumping all the necessary tasks to achieve those results, and then putting those tasks onto your calendar.
Why is Monday Hour One so Effective?
By starting off your week with a clear intention and a realistic plan, you're setting yourself up for success. You'll know exactly what you need to do to achieve your goals, and you'll be able to stay aligned with your calendar throughout the week. This helps you avoid getting to the end of the week wondering where all your time went.
How I Use Monday Hour One
I start by reflecting on the previous week, noting my successes, challenges, and lessons learned. Then, I evaluate my goals for the upcoming week and start brain dumping all the necessary tasks to achieve those goals. I make sure to be realistic with my time, taking into account my ADHD tendencies.
I do all of this in Notion, because it helps me organize my thoughts in a way that works for me. If you're not familiar with Notion – you're missing out on an incredible tool, particularly for neurodiverse brains!
Once I have my task list, I put each item onto my calendar to ensure I have enough time to complete everything. This helps me visually understand how much time each task will take and avoid time blindness.

Courses & Templates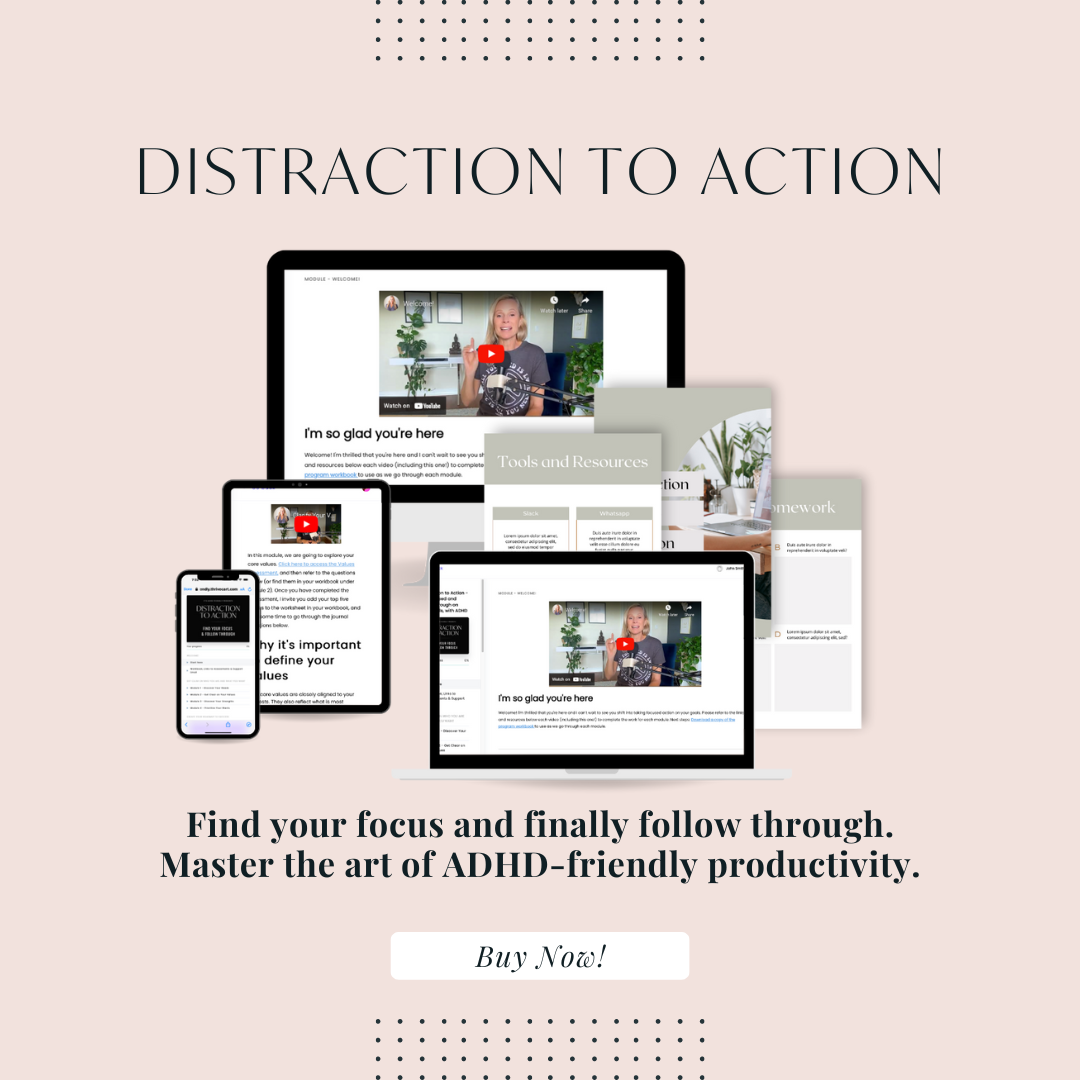 Distraction to Action
A science-based productivity program that helps ADHD'ers define what's most important and follow through on it.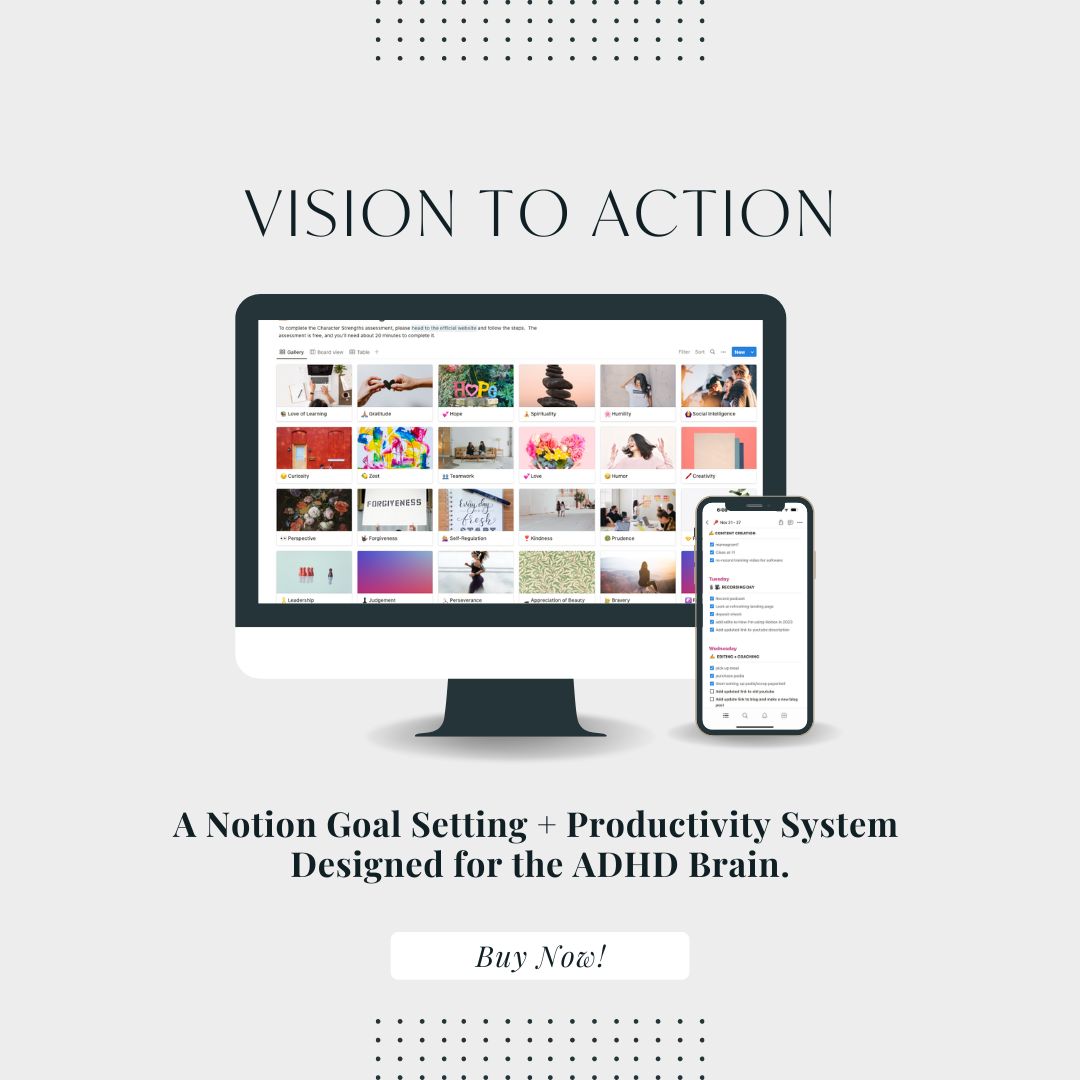 Vision to Action
A template to help you clarify and align your strengths, values + personal needs with your intentions.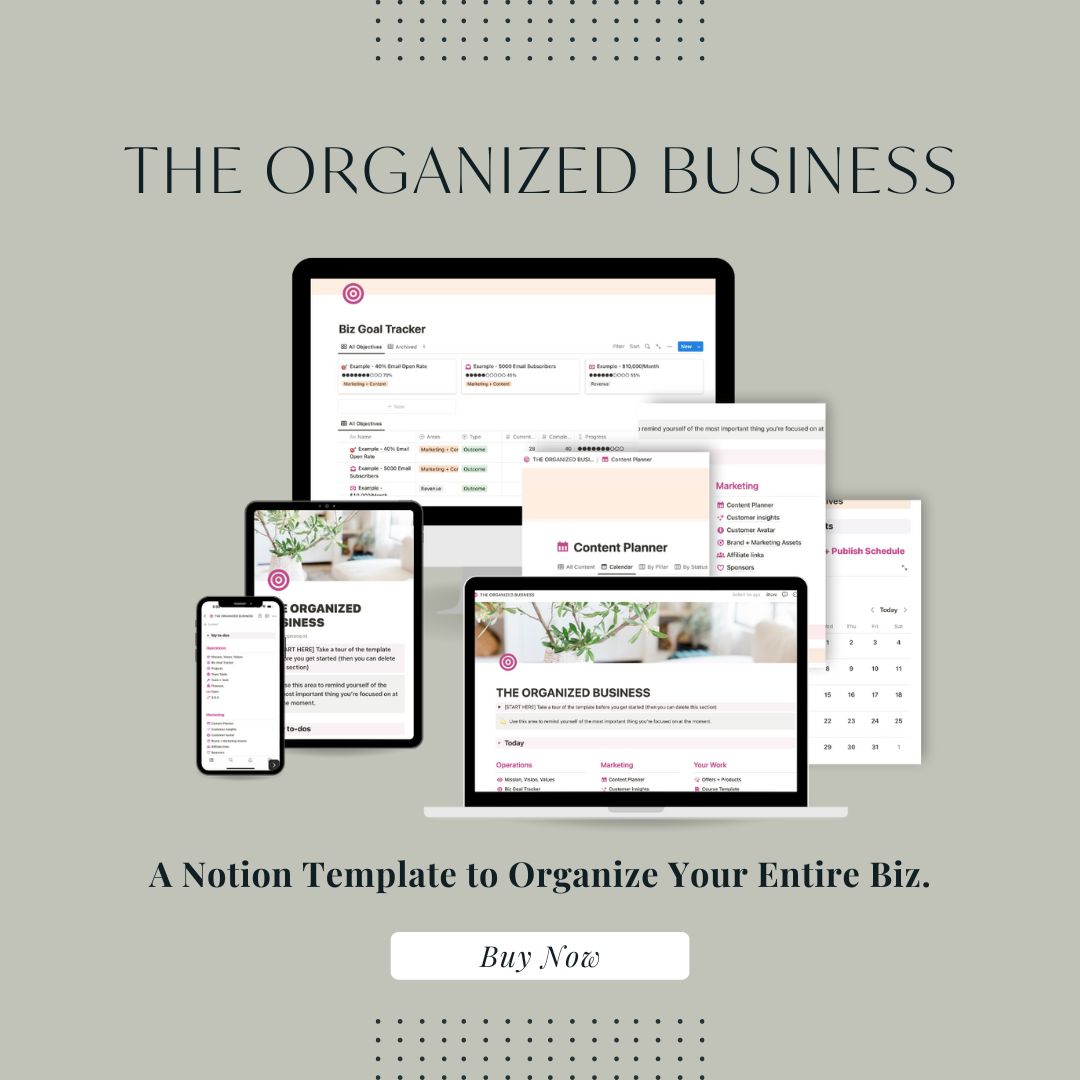 The Organized Business
A robust template for getting your business organized with trackers, workflows and project planning.
My Results with Monday Hour One
I've been using Monday Hour One for a while now, and I have to say, it's been a game-changer for me. I'm more productive, less stressed, and I feel confident in my ability to achieve my goals each week.
If you're struggling with time management and productivity, I highly recommend giving Monday Hour One a try. It's a simple, yet effective way to set yourself up for a successful week.

ProTip – even though this is called Monday Hour one, I often do this practice on Sunday when I have more time. Don't stress yourself out on Monday mornings if they are generally hectic. It's better that you do it when you have the time and headspace to think clearly!
Thanks for reading, and happy Monday Hour One-ing!