Head's up, there could be affiliate links ahead!
Is it possible to manage the symptoms of ADHD naturally with Ayurveda? That's what we explore in this week's podcast. The short answer is that Ayurveda can help us mange our lives in a way that will enhance our health and wellbeing, which can make living with ADHD much easier.
So tune into this podcast episode to get more insights into simple ways to apply the principles of Ayurveda in your own day-to-day. To get an abbreviated understanding of the science of Ayurveda, and more info on Ayurvedic expert, Monica Bloom, read on.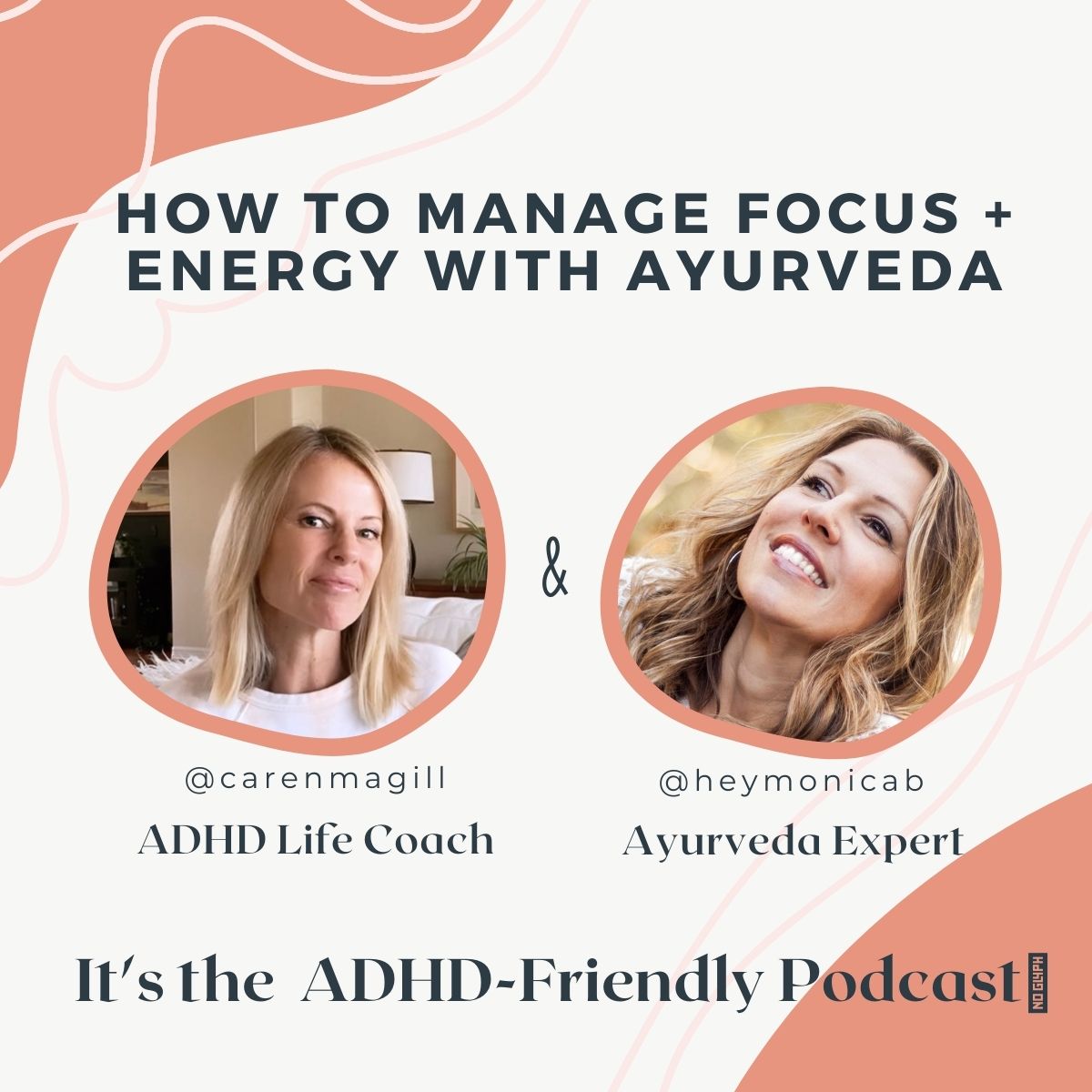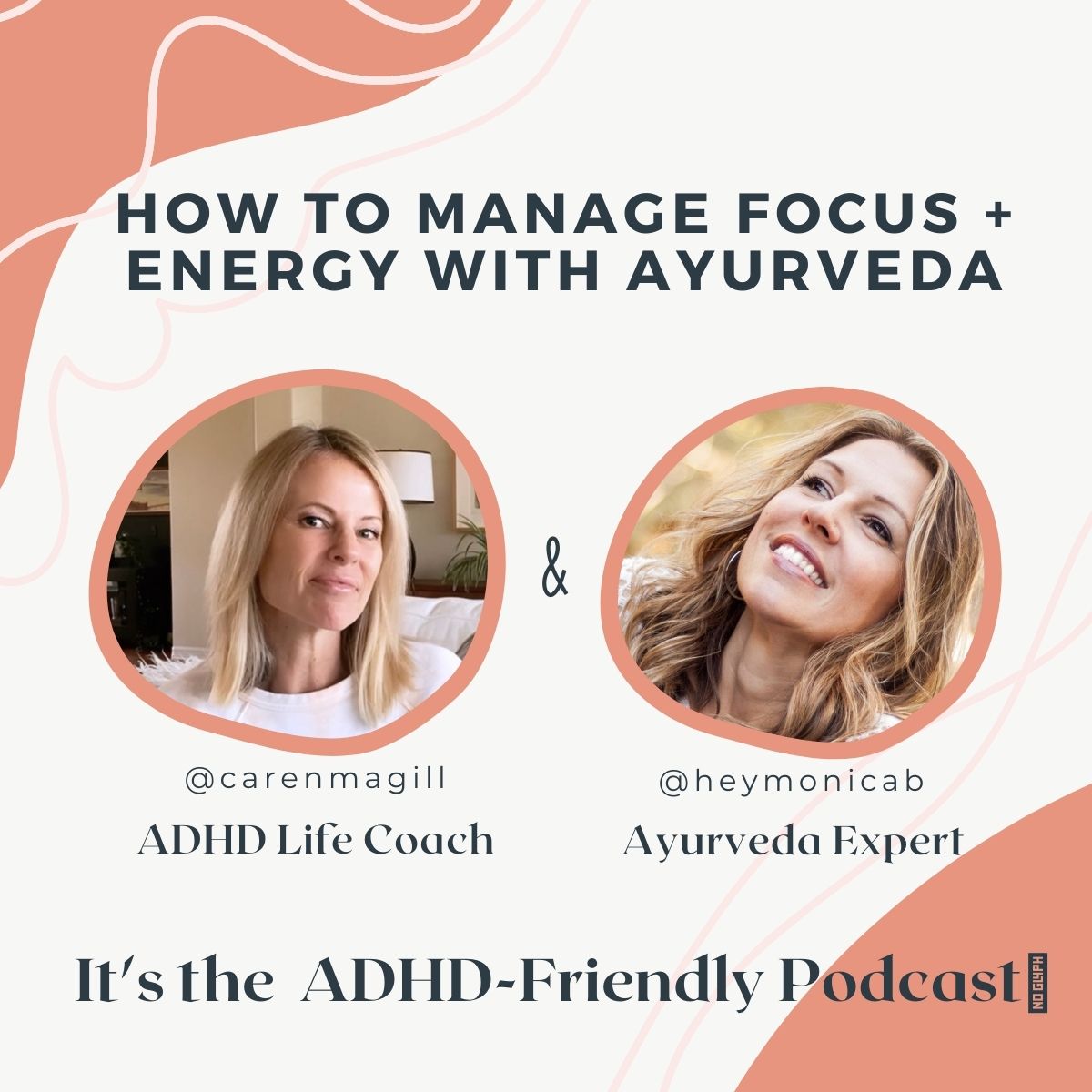 What is Ayurveda?
Ayurveda is considered the science of life or the science of longevity. It's a 5,000 year old mind, body and spirit, wellness and healing system based in India. It's as wide and deep as Western medicine, but it differs in that it addresses the uniqueness of the individual.
Ayurveda proposes that the entire universe, our planet and our bodies and cells are made up of the five elements – air, space (ether), fire, water, and earth. And those five elements in combination, create everything in our universe from the sun and the wind, to the mountains and the bugs, dogs and oranges. It's the foundation of everything.
Each one of us is a totally unique combination of those five elements that has never been before. And it will never be repeated. It's why we look different and act differently. It's why we digest certain foods better than other people. We're just totally different.
These five elements, space, air, fire, water, and earth break down to three energies that are in both nature and in our bodies. Those energies are called doshas.
Vata Dosha – Where Ayurveda and ADHD Intersect
The first dosha is Vata, and it's made of space and air elements. It's the most subtle of the three energies and when it's out of balance, we can start to experience ADHD-like symptoms.
Vata moves fast, like the wind. It is the energy of movement, so if you have this dosha, you probably like to fly by the seat of your pants, talk a lot, and use your hands when you speak.
How to Balance Vata Energy?
Slow down and ground. Because Vata is air and ether, we need to draw down to the earth and become more rooted. This means creating structure and routines that support a calm mind, such as meditation, sleep and limiting stimulation from social media, the news, jarring noise and environmental toxins.
Pitta Dosha
Pitta dosha, which is the energy of transformation and it's made of fire and water elements. If you're a Pitta person, you tend to run hot. You might have heated emotions, and you like to be in control. You're a leader and you like to have things your way. As a result, you're probably very driven.
How to Balance Pitta Energy?
Pitta energy needs to stay cool. So it's best to keep your diet and lifestyle surrounded with dry, cool environments, activities and foods that calms that internal fire.
Kapha Dosha
Kapha energy is made of water and earth, and it's the most stable dosha. Kapha is the energy of lubrication and structure, so it sticks the other two doshas together and creates a strong foundation. Kapha people tend to be steady in their emotions and personality.
Because people with Kapha energy are slow, steady, and rooted in structure and stability, they don't like to move a lot.
How to Balance Kapha Energy
When Kapha's get out of balance, they feel lazy, which can lead to lethargy, weight gain and or depression. These are heavy and slow imbalances, so make sure that you're walking or sweating or doing something physical every day so that you don't stay too static.
How to Manage ADHD Naturally Using Ayurveda?
Go to bed before 10pm
Get up at sunrise
Move your body as soon as you get up as this will settle your mind
Mediate for at least 5 to 10 minutes immediately after your movement practice
Opt for cooked, moist food over raw or dry food. For example, oatmeal rather than toast.
Slow down when you eat your food. Avoid the distraction of screens and focus on chewing.
Speak to an experienced Ayurvedic practitioner if you want to explore the use of herbal supplements, and of course, talk to your medical provider before mixing herbal supplements with medications.
Want more Insights on Ayurveda?
Check out Monica Bloom's:
Want help creating more structure to Manage your ADHD Brain?
Consider working with me as your ADHD coach.
More Resources on Managing ADHD Naturally with Ayurveda
Ayurveda and the treatment of Attention Deficit Disorder
Can Ayurveda help my child with ADHD?
Thanks for reading!